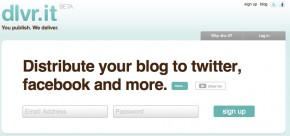 Efficient and Consistent Channel Distribution
When it comes to content generation or social media in general, one of the most common concerns or fears I hear is:
Where am I going to find the time to do all of this? Seriously!
It's true, creating content and interacting on multiple channels can be very time consuming. On the flip-side, when I'm not participating on a channel like Twitter or YouTube, I feel I may be missing an opportunity to interact.
That's when I was lucky enough to meet Bill Flitter, Founder of Dlvr.it, Pheedo and Fastlane Ventures, at the Content Marketing Retreat in Langley, Washington.
Route your content (or anyone else's)
Dlvr.it (pronounced "deliver it") is a wonderfully simple and elegant content routing application. Think of it as an old-fashioned switchboard operator for all of your content sources.
At the core of the solution lies the ubiquity of RSS feeds. Any source with an RSS feed can be added to your Dlvr.it dashboard. Connect to your Facebook account or Twitter and now you can automatically use their rules-based content distribution engine to route RSS feed content to multiple channels.
Credible content sources deliver constant interaction
While I've only been using Dlvr.it for a few days, I love it. Obviously, as a content creator I can now systematically route my content to all my social channels for distribution and promotion automatically.
But what's more exciting is that I've taken some of my most beloved content sources and routed their RSS feeds through Dlvr.it. The application allows you to add hashtags (automatically) and custom text before and after each post. There are some rich content filtering options as well.
Dlvr.it is a powerful way to efficiently deliver your content to multiple channels, but for me, I now feel like I'm still participating even when I can't be on the channel itself. Thanks, Bill, and the entire Dlvr.it team.
I recommend you give Dlvr.it a shot. Let me know what you think!
About The Internet Cosmonaut
Our Chief Strategy Officer is constantly searching for new ways to build online relationships by creating, distributing, and promoting valuable content. Each week, Drew Davis will introduce you to one of the new channels he's found as he dashes around the online universe.
He'll help you understand, as a marketer, how you can use it (or how you shouldn't use it) to market your products or services more effectively and efficiently. If you have a new tool you'd like Drew to review, send us a comment!