I Want to feel special
Foursquare, Facebook Places, Scvngr and Gowalla are all the rage. I know. I've been using location based services (LBS) since my friend Doug Hurd from Where.com introduced me to the concept almost five years ago.
Since I joined Foursquare and started playing with Gowalla I've felt that there's one thing missing from my LBS expereince: the locations. I don't mean the listing of the location on my device or the application (they're all there,) I mean the actual participation in a meaningful way by the locations themselves.
Sure, some brands have tried hard to engage in these channels, but it wasn't until I went to wine country with my wife that I really came to appreciate the deep experience a community can build if every location (even in a relatively small geographic area) participates.
Wine Country businesses make 'checking-in' a habit
In the eyes of my wife, our trip to wine country finally justified my credibility as a social media guru in her eyes. For years, she's been wondering what the value of all my "status updating and checking-in crap" means to her and it wasn't until we visited winery after winery, restaurant after restaurant and received 'special' attention that she realized that there was something in it for her.
I'll be honest. I usually check-in to locations when I'm bored. Maybe my wife's in the bathroom and I'm waiting for her, or maybe my wife's phone rings and she's on a call. These are the times I usually check-in to a location. I look at the tips (sometimes they're helpful – many times they're not) and I see if I know someone who's here (I never do.) At the first winery we visited, I checked-in in one of these lull moments only to be greeted by a "special offer." I love that – it's unexpected and really exciting.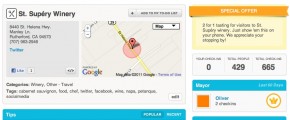 Before I knew it, we were being whisked away to a private tasting room where we sampled (for a fee) the exact same wines that were being tasted outside, but we felt special – really special. My wife was overjoyed!
At almost every single location we visited we were rewarded with small things – special offers that everyone in the organization understood and appreciated. Everyone would thank us for checking-in and it felt like we were treated with extra care and attention. (I'm not even sure this is the case, but perception is reality when it comes to brand building.)
Why LBS works in Wine Country
There is one simple reason that Location-Based Services work in Wine Country: everyone (or almost everyone) is participating. I have no idea if the Chamber of Commerce taught everyone how to do this, or everyone's learned on their own, but it works. My habit of checking-in only when I was bored changed completely. I started checking to see if wineries and restaurants had special offers before I arrived. I made many of my decisions on who to visit based on what kinds of special treatment we might receive.
Most importantly, checking-in, enriched our experience and perception of the entire community.
If you're a director at a chamber of commerce, like Humboldt County or Langley, Washington, help your community understand the value of community-oriented LBS participation. Teach them how to do it and monitor their success. You'll be happy you all worked together to deliver a premium experience that's shared worldwide.
About The Internet Cosmonaut
Our Chief Strategy Officer is constantly searching for new ways to build online relationships by creating, distributing, and promoting valuable content. Each week, Drew Davis will introduce you to one of the new channels he's found as he dashes around the online universe.
He'll help you understand, as a marketer, how you can use it (or how you shouldn't use it) to market your products or services more effectively and efficiently. If you have a new tool you'd like Drew to review, send us a comment!