Video is an increasingly important element to all consumer product sales. However, not just any video will do to drive sales. In a retail marketplace where shelves are over-stocked, staff hard to locate, and point-of-sale messaging reduced to a few bullet points on a notecard, creative online video is a key way to convey a highly informative and beneficial brand message.
Breaking into new territory
Breville is an Australia-based maker of countertop kitchen appliances. In the US, they've found formidable opponents in long-established and trusted American brands like KitchenAid and Cuisinart. But their innovative, high-quality products stand up against the more entrenched brands.
What Breville was finding at retail and online is that oftentimes potential customers wouldn't encounter the brand until they had already begun their shopping process. The Breville name wasn't always in the consumer's mind, but eventually they'd encounter the Breville products. This is to be expected for a brand breaking into a new market.
To bolster their position in the marketplace and ensure that consumers doing product research would find them, Breville turned to the Vine program from Amazon.com.
"…Vine™ is a program that enables a select group of Amazon customers to post opinions about new and pre-release items to help their fellow customers make educated purchase decisions. Customers are invited to become Amazon Vine™ Voices based on the trust they have earned in the Amazon community for writing accurate and insightful reviews." —Amazon.com
Breville Director of North American Marketing Rob Sheard understands the inherent value of product testimonial video from real consumers. "They are valuable not necessarily because of the quality of the video work, but they deliver a first-hand, in-depth overview from a trusted third party," Sheard said.
Building WoM
The Vine participants produced a number of amateur yet informative product demos and testimonials.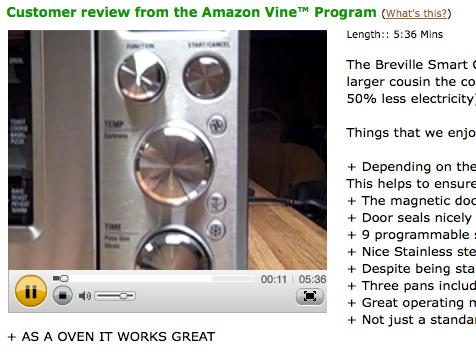 If Sheard was concerned about getting bad reviews or untrustworthy content, he didn't show it. "It is especially valuable to launch a product that you are confident will be well reviewed. That base of five to ten 5-star reviews and video … right out of the gate provides a strong foundation for the consumer to establish confidence."
"Amazon is the most trusted consumer review site. It ranks very high in organic search, and they are the #1 spender when it comes to paid . So chances are, if the consumer is going through the decision process, it will play a factor." —Rob Sheard
How has it worked?
Amazon has become a crucial partner in Breville's sales channel. "eCommerce is the fastest growing segment of our business, and Amazon is our largest partner in that channel," Sheard said.
Interestingly though, not only is Amazon a partner for the present, Breville sees the Amazon value in the future. Sheard explains, "… as mobile becomes more and more a part of multiple levels of the decision process – finding the item, learning more in store, comparing prices, etc. – Amazon will probably grow in importance as the de facto information gateway, whether via an app or a mobile browser."
This post is excerpted from a forthcoming report from Tippingpoint Labs. If you'd like to bring this evolutionary thinking to your team, check out our corporate workshop offerings.