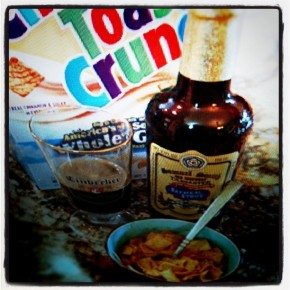 We have talked about brandscapes and brand partnerships quite a bit here. The more I think about these concepts and the more I hear Drew Davis talk about how they are the future, the more I see that they're already all around us.
The frameworks are there, just looking to be brought out into the open and adapted to the current digital possibilities.
I see two models I think marketers can learn a lot from as we build the future landscape.
Commercial Retail Real Estate
Free Samples
Commercial Real Estate
I was buying some antique mirrors from a guy who worked at Whole Foods. He brought my attention to the fact that there are almost always liquor or wine stores next to Whole Foods stores. In fact, he told me, Whole Foods had even invested in improving a liquor store next to one of their locations.
Why? Because the liquor and wine stores add value to their customers. The same consumers who prize organic options and high-end delicacies also appreciate artisanal beers, wines, and Scotch. A high percentage of people shopping for one are bound to go for the other.
The two types of establishments share an audience. But they also help build an audience for each other. People might get turned on to one because of their interest in the other. Some consumers might be going out for a six-pack and want to grab some food. Maybe they've never been to Whole Foods, but when they experience it they'll probably come back, if only for the convenience.
This same principle can be applied to online real estate. Brands can buy into ads and promotions together. One brand can develop content for another's corporate site. It's a wide open game.
Free Samples
Yesterday, I bought some Morton salt. Glued to the top was a sample and coupon for one of their seasoned salt blends. I used it right away and it was fantastic.
I asked Brad Schwarzenbach if he could think of an example where one brand gave away a free sample for another, and he reminded me of cereal boxes. A free toy inside a cereal box has always added tremendous value for kids, especially when tied into a movie or something else they like. But healthier cereals also do tie-ins that cross-promote dairy companies or causes.
The cereal company can gain sales and loyalty with the value add, and the partner can gain exposure to a new audience. In some cases, as with games or URL tie-ins, they can even own part of the consumer's day as they solve a maze or type in a code to enter a contest online.
The same way marketers realized that cereal boxes are a messaging medium, marketers today need to realize that all extensions of a brand online and off are opportunities for partnerships that can give new kinds of exposure or drive new sources of revenue.
You have to think outside the box, but don't forget to think inside it, too.