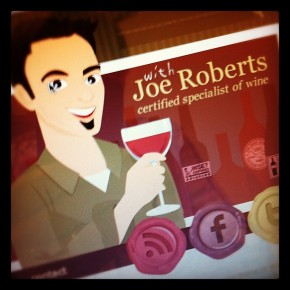 We all want our customers and clients reviewing our products (or services) when they're most engaged and (hopefully) enthused about them, that means, we need the barrier to entry for a product review to be as low as possible. Sure, you can invite your customers to come to your site, login, fill out a form or two, choose a star rating and post their review. But how many people are willing to do that while they're sitting at a restaurant with friends and family drinking a bottle of wine, or eating a wonderful meal?
Maybe it's time to consider encouraging real time reviews on a platform that people have already embraced?
Real Time Wine Reviews
This week, I happened on 1WineDude.com's weekly blog feature called Twitter Wine Mini Reviews. Each week, as he's drinking each wine, Joe Roberts the blog's author, taps out his own 140 reviews:
08 Giant Steps Chardonnay Sexton Vineyard (Yarra Valley): Drinks like it costs twice the price. A minor food-friendly floral triumph. $35 A-
That's a stellar review, written only moments after Joe swirled the wine around in his mouth. It's authentic and real time. It doesn't take any fancy form filling out, or login credentials and it's a great endorsement for the brand.
Leveraging The Moment of Consumption
In the consumer packaged goods industry and specifically the consumables market the life cycle of a consumer's enthusiasm for your product or brand is extremely short. You make the purchase, consume the product and move on. In a world where everyone has an audience you need to start thinking about how you can encourage reviews as close to the moment of consumption as possible.
Extending the life of a Real Time Review
What Joe's done with his mini reviews on his blog can be leveraged by anyone in the business. In fact, using a platform like Storyify to curate these real time reviews on a weekly basis and tie them to your brand helps extend the life of the fleeting review and can even tie it to revenue generating opportunities.
Think about how you can encourage real time reviews and then leverage them to extend their life. You'll get more reviews, even better reviews and capture the essence of the consumer's experience in 140 characters – or less.