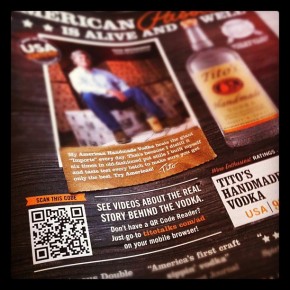 One of the biggest problems I see when scanning QR codes is that the content on the other side of the QR code sucks more than 90% of the time. The fact is, marketers are ruining the value of QR codes when they simply send me to the brand's homepage (especially when it's not even formatted for mobile.) I opened the New York Times Magazine today to find a great example of setting and managing expectations for the value of a QR code in an advertisement for Tito's Vodka.
The Setup
If you want to execute a great QR code integration start by giving me a clear call to action. What ONE thing is on the other side of this QR code that you want me to consume? For Tito, he invites us to "See videos about the real story behind the vodka." That's perfect, it's wonderfully clear and I'm expecting to see and hear Tito himself in the videos.
The call to Action
This ad has only one call to action: "Scan this code." The call to action is nicely called out and the QR code doesn't look like an afterthought.
Don't give me instructions
Most ads that include QR codes invite me to download an app and then teach me how to use the QR code. This is really idiotic. Instead, do what Tito has done: "Don't have a QR code reader? Just go to titotalks.com/ad on your mobile browser." It's that simple… if you have no idea what a QR code do you want to distract your audience and send them down the rabbit hole of learning a new technology? No, let someone else do that.
Give me what you promised as fast as you can
In the liquor business they're required by law to make sure you're of drinking age before you consume their content. Most brands make you enter in your birthdate. This takes time, especially in a mobile environment and is really annoying. Tito understands this, and instead of trying to gather data from the consumer he simply asks: "Hi, I'm Tito. I gotta ask. Are you of legal drinking age? Yes | No " It's so easy. I click yes, and I'm in. Immediately, I'm presented a series of videos – as promised and I can start watching what I came to consume.
What's next?
Tito's done a lot of really nice things to tie his print ad to his digital experience. I think there are a few areas that could be improved and that we can all learn from.
Use Youtube. I'd love to have subscribed to more of Tito's video content and I probably would have shared it with my Youtube friends if the video had been embedded from YouTube.
Define a clear next step from the mobile experience. I enjoyed the video content, but wasn't sure what I should have done next. The interface invites me to enter a contest, visit their website, connect on Facebook or Twitter, or follow a link to something called "Made in America." I would have liked one more call to action that's compelling me to take a clear next step in my relationship with Tito's.